The two best ski resorts in North Macedonia
Winter sports in Macedonia, particularly snowboarding and skiing, have become part and parcel of an authentic winter vacation for locals and global travelers. Macedonia's breathtaking powdery mountains are a revered bucket list item for many skiers. They offer excellent climatic conditions for the sport and stunning scenery like you have never seen.
However, skiers are often torn between two lively and eventful ski resorts, Mavrovo or Popova Sapka. Both resorts have distinct features that make them desirable destinations. In this guide, we are going to review both and give a verdict on which resort is better.
Mavrovo Ski Resort (Zare Lazarevski)
Perched on the slopes of Bistra mountain, Zare Lazarevski is one of the most famous ski resorts in the country. The resort offers skiers a wide range of Alpine skiing possibilities, such as beginners' slopes, advanced skiers' slopes, Alpine skiing competitors' slopes, and ski routes for alpine skiing. The resort is also an excellent spot for snowboarding.
The resort offers a skiing possibility at an altitude from 1,255-1,860m above sea level and has six tracks. However, the cross-country slope "Mirna Dolina," which sprawls 7.5km, along with the 30km long slope which hosts the Commemorative Tournament, are the most revered ski slopes on Zare Lazarevski. The slopes are serviced by 11 ski lifts and 3 cable cars capable of carrying up to 11,100 passengers per hour.
The resort also offers night skiing from 19:00 to 00:00hrs and has several coffee bars dotted across the slopes. Zare Lazarevski has a ski patrol, an ambulance snowmobile and a snow-making machine to help maintain its 70cm snow cover average. There is a ski school for those looking to take on the hobby, and the ski season begins in November and finishes in April. If you fancy some entertainment, there are several restaurants and nightclubs near the resort and Mavrovo Lake.
How to get to Mavrovo from Skopje?
Mavrovo is 96.5km south of the capital, and the best way to get to the resort is by car. Our private transfer from Skopje to Mavrovo should take about 1 hour and 24 minutes.
Mavrovo Ski Resort Info:
Ski slopes length: 25 km
Number of ski lifts: 14
Ski resort capacity: 11,100 per hour
Popova Sapka Ski Resort
The resort, opened in 1947, is one of the oldest and largest in Macedonia. Popova Sapka is perched on the slopes of Shar Mountain, one of the highest mountains in the country and sits at an altitude of 1,800m. But the mountain has many peaks above 2,500m above sea level. Titov Vrv (2,748m) is a revered ski slope that sprawls about 20km, and the ski area extends over 35 sq. km. The slope is serviced by 9 ski lifts and 3 chairlifts covering a total length of 14,000m and with a capacity of 11,000 skiers per hour.
The ski slopes suit all levels, from beginners to professional free-ride adventures. The slopes are kept up to FIS standard and host the famous International Sharplanin Cup in both slalom and giant slalom every year. Over the years, the slope also attracted adrenaline enthusiasts looking to take advantage of free-ride skiing and snowboarding on the untouched wild landscapes on both mountain slopes. Popova Sapka offers skiers ski-in and ski-out options, thanks to several nearby hotels and Airbnb. There are also several dining options for skiers who want a quick bite.
How to get to Popova Sapka from Skopje
Popova Sapka ski resort is found about 66 km west of Skopje, and the best way to get there is by car. Our private transfer from Skopje to Popova Sapka should take about 1 hour and 11 minutes.
Popova Sapka Ski Resort Info:
Ski slopes length: 20 km
Number of ski lifts: 9
Ski resort capacity: 9,800 per hour
What is the Verdict?
Both Mavrovo and Popova Sapka are undoubtedly fantastic ski destinations. However, deciding which one is the best depends on your desired experience. Popova Sapka has many wild slopes offering a free-riding experience if you fancy a pulsating glide down the hill. However, if you want an all-around experience inclusive of exceptional nightlife, then Mavrovo has the edge.
Need an airport transfer, long-distance taxi, or private sightseeing tour in the Balkans?
Make your holiday or business trip easy and stress-free by hiring a professional local private driver with a modern and comfy car.
Balkan Drivers offer competitive prices and a high level of customer service. Contact us for a quote, and you'll get a clear offer that includes all driving costs.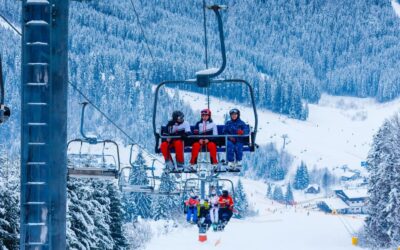 Kopaonik is a stunning mountain range located in central Serbia and is one of the country's most popular tourist destinations. With its breathtaking scenery, well-developed ski resort, and a host of outdoor activities, Kopaonik offers something for everyone, whether...
Nicknamed "Wild beauty," Montenegro is home to breathtaking landscapes such as the exotic Ada Bojana, the picturesque Adriatic coastline, and the fjord-like Bay of Kotor, among others. And whereas the country is a revered summer destination, winter in Montenegro flies under the radar. So it begs the question; Is Montenegro good for skiing?
The heart-throbbing experience of gliding down a powdery white slope lives on long after the winter season. The Alps and Dolomites often get most of the attention regarding the sport, but the price point puts off many skiers. Ski enthusiasts are always looking for the next best thing; lately, the Balkans are just that. Many ski enthusiasts are finding solace in resorts across the Western Balkans.