The heart-throbbing experience of gliding down a powdery white slope lives on long after the winter season. The Alps and Dolomites often get most of the attention regarding the sport, but the price point puts off many skiers. Ski enthusiasts are always looking for the next best thing; lately, the Balkans are just that. Many ski enthusiasts are finding solace in resorts across the Western Balkans.
And whereas the former Yugoslav countries seem like a peculiar selection for skiing, I will remind you that Sarajevo hosted the Winter Olympics in 1984. So, the sport has long been part of this region. The mesmerizing Dinaric Alps, which sprawl from Slovenia to Kosovo and the breathtaking Sharr and Pirin Mountains make for an incredible ski season. Here are the best ski resorts in the Balkans.
Bansko, Bulgaria
Bansko is one of Bulgaria's prime winter sports areas and the most modern resort in the country. The immaculate resort is set upon the whitewashed peaks of Pirin National Park, and the ski area is only a 25-minute gondola ski lift ride from the resort at about 2000-2600 meters. The area has excellent snow coverage at this height, thus a long ski season and sweeping views of the area.
Bansko offers about 70km of pistes with varying levels of difficulty. The resort also has pocket-friendly ski gear hire and onsite trainers for those interested in learning the sport, which is why it is synonymous with beginners.
How to get to Bansko Resort from Sofia?
Bansko is found in the Southwestern region of Bulgaria and is surrounded by Rila, Rhodope and Pirin mountains. The distance between Bansko and Sofia is about 160km, and the fastest way to get there is by car. It should take you about 2 hours to get there. At Balkan Drivers, you can skip the hustle of finding reputable car hires and google maps. Instead, we offer you a private transfer from Sofia to Bansko to get you there safe and sound
Bansko Ski Resort Info:
Ski slopes length: 78 km
Number of ski slopes: 18
Number of ski lifts: 14
Ski resort capacity: 24000 per hour
The longest ski run: 10 km
Kopaonik, Serbia
Kopaonik is among the most popular ski resort in the Balkans, thanks to its exceptional amenities and breathtaking views. The resort is found along the largest mountain range in Serbia and sprawls 80km from northwest to southwest with a width of 40km. The highest point on the mountain is Ravni Kopaonik.
The immaculate resort has so many perks that make it stand out in the region, such as its snow-making system, and it also gets about 200 sunny days a year, so you are guaranteed clear blue skies as you glide down the mountain.
How to get to Kopaonik from Belgrade?
Kopaonik is perched between central Serbia and Kosovo, and the fastest way to get to the resort from Belgrade is by car. There is 277.2km between Serbia's capital and Kopaonik, and it should take about 3 hours and 40 minutes to get to the resort. You can easily book a transfer from Belgrade airport or the city to Kopaonik.
Kopaonik Ski Resort Info:
Ski slopes length: 55 km
Number of ski slopes: 32
Number of ski lifts: 24
Ski resort capacity: 35000 per hour
The longest ski run: 3,5 km
Borovets, Bulgaria
Borovets has been clawing its way up several bucket lists, and rightly so. It is one of the most affordable ski resorts on the continent and is revered by beginners thanks to several onsite trainers. The resort's apres ski experience is robust but won't make a massive dent in your savings compared to other popular European ski destinations.
And if you want more to your vacation than skiing, there are also several other perks to visiting Borovets, such as the nearby hot springs and activities like snowy horse trek. So, Borovets is an all-around ski resort offering impressionable amenities to both skiers and non-skiers.
How to get to Borovets Resort from Sofia?
Borovets is perched in the northern part of the Rila Mountains in Bulgaria. The trip from the capital should take about one and a half hours in our private transfer.
Borovets Ski Resort Info:
Ski slopes length: 58 km
Number of ski slopes: 25
Number of ski lifts: 13
Ski resort capacity: 8150 per hour
The longest ski run: 12 km
Jahorina, Bosnia and Herzegovina
Jahorina Resort is the largest ski resort in Bosnia and Herzegovina and has been at the center of winter sports for several decades. The resort sprung to the limelight when it hosted the 1984 women's alpine events at the Olympics.
And whereas the facilities at the resort are in much need of a facelift, the resort is one of the best places where you will get value for money in the Balkans. The resort also offers night skiing on Wednesdays, Thursdays and Fridays on the mile-long Poljice slope. Jahorina has nine skiing trails served by nine ski lifts. There has been talk of adding another gondola ski lift in the nearby town of Pale, but it has been halted to date.
How to get to Jahorina from Sarajevo?
Jahorina is about 33.9km from Sarajevo, and the fastest way to get to the resort is by car. Your trip from the capital should take about 46 minutes. With our limousine service, you can make a reservation for your taxi from Sarajevo to Jahorina at a flat rate.
Jahorina Ski Resort Info:
Ski slopes length: 47 km
Number of ski slopes: 20
Number of ski lifts: 8
Ski resort capacity: 14000 per hour
The longest ski run: 2 km
Pamporovo, Bulgaria
Located along the slopes of Rhodopi mountain in the Smolyan province, Pamporovo is Bulgaria's sunniest and most revered resort. The gentle slopes of the Rhodopi make this the perfect choice for beginners. Also, the slopes are well-guarded and perfectly maintained throughout the year. However, opt for "The Wall," a challenging ski run for advanced skiers if you seek a tougher challenge.
Pamporovo peaks at 1,937m and has 29.8km of slopes for skiing, with the longest run going for 4.2km and is served by five chairlifts and nine drag lifts. Travelers can pick from a myriad of accommodation options like Therma Vitae, Balneo Complex, Complex Makaza and others.
How to get to Pamporovo from Sofia?
Pamporovo is located about 228.5km from the capital. The fastest way to get to the resort is by car, and our private transfer should take about 3 hours and 7 minutes.
Pamporovo Ski Resort Info:
Ski slopes length: 30 km
Number of ski slopes: 8
Number of ski lifts: 13
Ski resort capacity: 13000 per hour
The longest ski run: 4,2 km
Conclusion
Skiing is a revered winter sport, and many ski enthusiasts often look for the next best thing. However, Balkan ski resorts aren't only cheap alternatives to the Alps but also offer world-class amenities to compete on the global stage. And with our list of the top five ski resorts, you can brace yourself for a beautiful winter experience gliding down the powdery white slopes.
Need an airport transfer, long-distance taxi, or private sightseeing tour in the Balkans?
Make your holiday or business trip easy and stress-free by hiring a professional local private driver with a modern and comfy car.
Balkan Drivers offer competitive prices and a high level of customer service. Contact us for a quote, and you'll get a clear offer that includes all driving costs.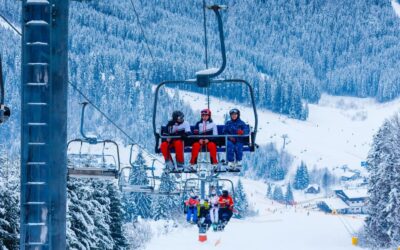 Kopaonik is a stunning mountain range located in central Serbia and is one of the country's most popular tourist destinations. With its breathtaking scenery, well-developed ski resort, and a host of outdoor activities, Kopaonik offers something for everyone, whether...
Nicknamed "Wild beauty," Montenegro is home to breathtaking landscapes such as the exotic Ada Bojana, the picturesque Adriatic coastline, and the fjord-like Bay of Kotor, among others. And whereas the country is a revered summer destination, winter in Montenegro flies under the radar. So it begs the question; Is Montenegro good for skiing?
Winter sports in Macedonia, particularly snowboarding and skiing, have become part and parcel of an authentic winter vacation for locals and global travelers. Macedonia's breathtaking powdery mountains are a revered bucket list item for many skiers. They offer excellent climatic conditions for the sport and stunning scenery like you have never seen.