This is the list of the best ski resorts in Montenegro
Nicknamed "Wild beauty," Montenegro is home to breathtaking landscapes such as the exotic Ada Bojana, the picturesque Adriatic coastline, and the fjord-like Bay of Kotor, among others. And whereas the country is a revered summer destination, winter in Montenegro flies under the radar. So it begs the question; Is Montenegro good for skiing?
The ski trails in Montenegro might not be as captivating as Gstaad or Courchevel, but they are a great alternative if you want a pocket-friendly price point and sweeping scenery. The Montenegrin mountains are where all winter sports occur, particularly Kolašin and Žabljak. Here are the four best ski resorts in Montenegro.
Kolasin 1450
Kolasin 1450 is the most popular ski resort in Montenegro, particularly for beginners. The resort offers myriad services such as ski-lift facilities, a ski depot for children and adults, ski equipment rental, night skiing, and ski schools on its 25km slopes. The resort is also widely revered because it offers other activities such as rock climbing, snowmobiling, horse riding, rafting, and excursions to the Tara Canyon and Moraca rivers.
The excellent ski resort also has great culinary options where you can enjoy Montenegrin cuisines and mulled wine after a day of gliding down the slopes and is within proximity of the best hotels in Kolasin.
Kolasin 1600
The picturesque ski resort is located 2km from Kolasin 1450 and opened only a few years ago. There are several Kolasin 1450 vs. Kolasin 1600 debates among ski enthusiasts, but both are distinctively beautiful. Kolasin 1600 only operates on 4.6km of white-washed snow slopes, but that doesn't make it a lesser treat. The impressive ski lift at the resort is a beautiful way to take in the remarkable scenery of Kolasin, and at some point, you can see the slopes of Kolasin 1450.
How to get to Kolasin?
Kolasin is a town perched on the right bank of the Tara River and is surrounded by three mountain peaks; Komov, Sinyaevina, and Belasitsa). The city is about 70km from Podgorica, and the best way to get there is by car. Our private transfer from Podgorica to Kolasin takes only an hour.
Kolasin 1600/1450 Ski Resort Info:
Ski slopes length: 45 km
Number of ski lifts: 7
Ski resort capacity: 10600 per hour
Savin Kuk, Zabljak
The ski resort is found in the National Park Durmitor, about 5km for Žabljak. The resort sits at an altitude of 2000 meters and is serviced by two-seater cable cars, three ski lifts, and a children's ski lift. Savin Kuk has a total of 5km with a capacity of 3000 skiers, and skiers can easily access culinary cuisines nearby and the best hotels in Žabljak.
How to get to Savin Kuk, Zabljak?
The resort is about 120.1km north of Podgorica, and our private transfer from the capital should take about 2 hours and 3 minutes via Narodnih Heroja and E762. There is 149.7km between Savin Kuk and Tivat, and our private transfer will take about 2 hours and 58 minutes.
Savin Kuk Ski Resort Info:
Ski slopes length: 4,7 km
Number of ski lifts: 6
Ski resort capacity: 4900 per hour
Vucje
The excellent ski center is located in the northeastern part of the country and is a revered ski destination, particularly for those also looking to do some snowboarding. The resort has a snowboard park with 120-meter tracks, ski jumps, and a walking track of about 1200 meters. The cable car at the resort can carry about 200 skiers per hour, and there is also a hotel and restaurant to cater to guests.
How to get to Vucje?
Vucje is located about 72.2km from Podgorica, and the best way to get to the town is by car. Our private transfer from the capital should take about 1 hour and 20 minutes via E762. There is approximately 107.1km from Tivat to Vucje, and our private transfer should take about 2 hours and 24 minutes.
Vucje Ski Center Info:
Ski slopes length: 1,2 km
Number of ski lifts: 2
Ski resort capacity: 200 per hour
Conclusion
Although Montenegro isn't a famous ski destination, the country has slowly clawed its way up several bucket lists, particularly those of travelers looking for a wild experience at pocket-friendly prices. So it wouldn't be surprising if Montenegro ranks among the top ski destinations in a few years.
Need an airport transfer, long-distance taxi, or private sightseeing tour in the Balkans?
Make your holiday or business trip easy and stress-free by hiring a professional local private driver with a modern and comfy car.
Balkan Drivers offer competitive prices and a high level of customer service. Contact us for a quote, and you'll get a clear offer that includes all driving costs.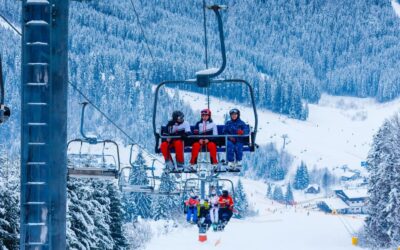 Kopaonik is a stunning mountain range located in central Serbia and is one of the country's most popular tourist destinations. With its breathtaking scenery, well-developed ski resort, and a host of outdoor activities, Kopaonik offers something for everyone, whether...
Winter sports in Macedonia, particularly snowboarding and skiing, have become part and parcel of an authentic winter vacation for locals and global travelers. Macedonia's breathtaking powdery mountains are a revered bucket list item for many skiers. They offer excellent climatic conditions for the sport and stunning scenery like you have never seen.
The heart-throbbing experience of gliding down a powdery white slope lives on long after the winter season. The Alps and Dolomites often get most of the attention regarding the sport, but the price point puts off many skiers. Ski enthusiasts are always looking for the next best thing; lately, the Balkans are just that. Many ski enthusiasts are finding solace in resorts across the Western Balkans.