Transfer from Podgorica to Kolasin
Hire Balkan Drivers for your private taxi transfer from Podgorica to Kolasin at the lowest price
Ask for a quote and take the best offer:
Excellent cars and helpful drivers

ADRIANE KEYNN
I used their car service twice, and both times drivers were absolute gentlemen, and their cars were comfortable and tidy. You can choose between nice taxi cars and exclusive limousines according to your budget and needs. Our drivers were Marko and Peter, both of them are very professional and helpful!
Affordable price for such a great service

NIKOLA KOMAZEC
Absolutely fantastic! The transfer price was the cheapest I found, but their service was perfect from start to finish and exceeded my expectations. Communication with the operator and the driver was perfect. Safe and comfy ride in a nice Mercedes. Everything was great! I highly recommend their taxi service.
Always reliable and easy to book

HUANG XIAO
As a frequent traveler in ex-Yugoslavian countries, I have become their regular client. Balkan Drivers are very reliable and always on time. Scheduling a taxi transfer is a straightforward process. You'll get the offer with all the instructions and the driver's details. And credit card isn't required. You can pay at the end of the ride.
Why to book a taxi from Podgorica to Kolasin with us:
All-inclusive Price For The Whole Vehicle
Pay Directly To a Driver - No Online Charge
100% Reliable And Right On Time
Free Waiting At The Airport With A Sign
New And Clean Taxis, Limousines, And Minivans
English-speaking Professional Chauffeurs
Easy To Book Timely In Advance
The best Airport Taxi in Podgorica
Make your holiday or a business trip in Montenegro easy and stress-free by hiring a professional local private driver from Podgorica with a modern and comfy car. With our network of reliable partners who fit our high standards, we can cover most towns, cities, and resorts in Albania, Bosnia and Herzegovina, Bulgaria, Croatia, Greece, Montenegro, North Macedonia, Romania, Slovenia, Serbia, and Kosovo.
Balkan Drivers offers airport transfers, long-distance taxi services, and custom-tailored day-trips in and from Podgorica. We have a wide range of comfortable cars to choose from, and our English-speaking drivers are experienced and knowledgeable about the Balkans region.
Let us take care of your transportation to Kolasin for you so that you can relax and enjoy your traveling in Montenegro. We offer competitive prices and a high level of customer service. Contact us for a quote, and you'll get a clear offer that includes all driving costs.
How to get from Kolasin city center to Kolasin ski resort?
There are several ways to get from the city center of Kolasin to the Kolasin ski resort, including by car, bus, or taxi. The distance between the city center and the ski resort is around 15 km, and it takes around 20-30 minutes by car, depending on traffic conditions. If you prefer to take public transportation, there are local buses that run between the city center and the ski resort on a regular basis. Additionally, there are taxi services available in Kolasin that can take you to the ski resort.
Which ski center is better, Kolasin 1450 or Kolasin 1600?
They both offer a variety of ski runs and facilities for skiers and snowboarders of all skill levels. The main difference between the two centers is their elevation. Kolasin 1450 is located at an elevation of 1450 meters above sea level, while Kolasin 1600 is located at an elevation of 1600 meters above sea level. The higher elevation of Kolasin 1600 generally means that the ski runs there have a longer snow season and better snow conditions. However, both ski centers have their own unique features, so it depends on what type of skiing or snowboarding you're looking for. Some people may prefer the more challenging terrain of Kolasin 1600, while others may prefer the more family-friendly atmosphere of Kolasin 1450.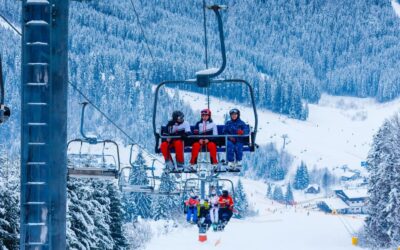 Kopaonik is a stunning mountain range located in central Serbia and is one of the country's most popular tourist destinations. With its breathtaking scenery, well-developed ski resort, and a host of outdoor activities, Kopaonik offers something for everyone, whether...